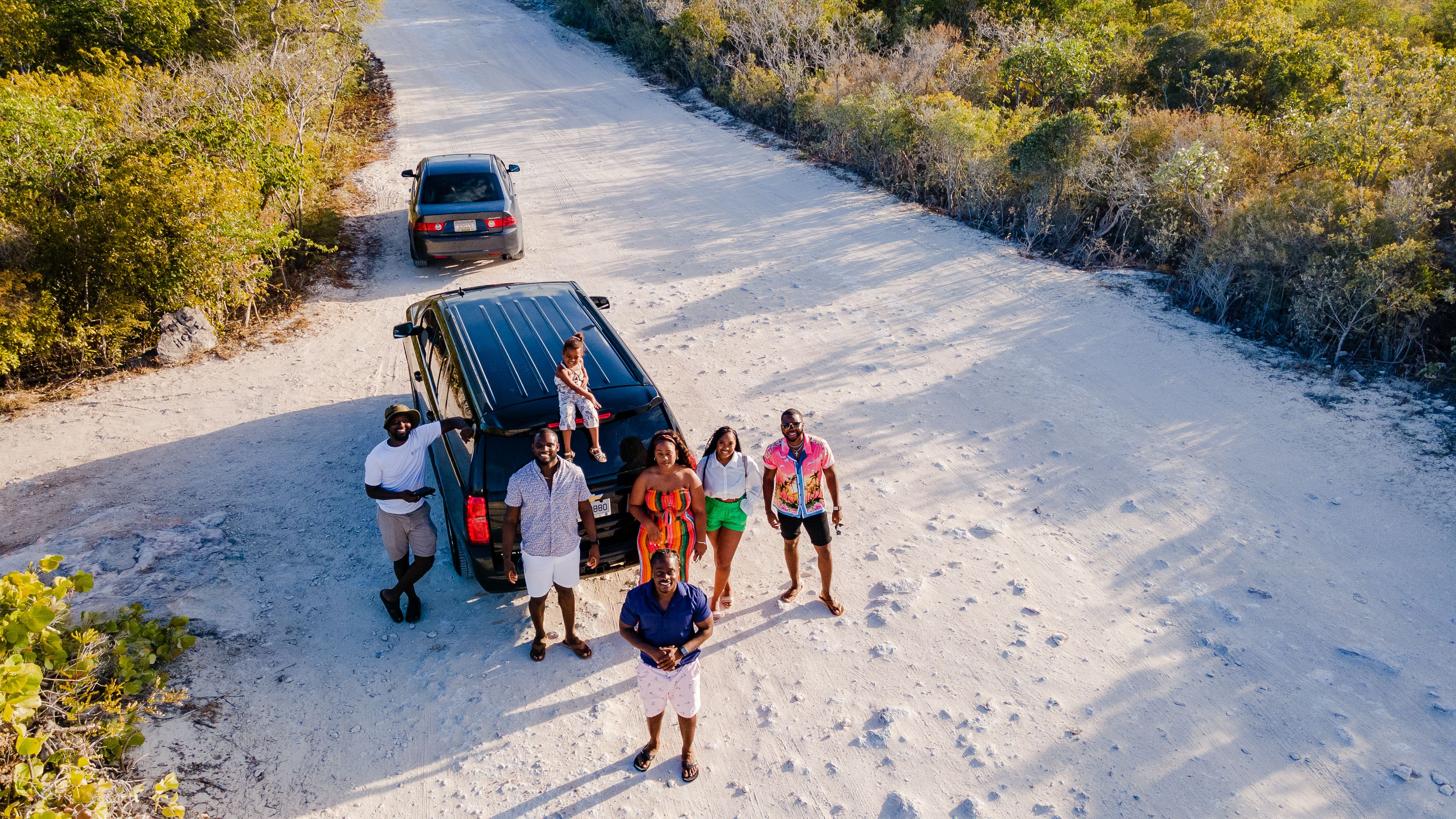 Welcome to the Caribbean paradise of TURKS AND CAICOS! Are you ready to embark on a journey that will take you through pristine beaches, enchanting historic sites, and captivating cultural experiences?
Look no further than the TCE Island Tour, hosted by the seasoned professionals of Top Class Experience. Get ready for an adventure that will leave you with memories to cherish for a lifetime.
Destinations Covered in the Tour
Our TCE Island Tour has carefully curated an itinerary that showcases the very best of TURKS AND CAICOS. Prepare to be amazed as we take you to the following breathtaking destinations:
1. Taylor Beach
Let the soft white sands and crystal-clear turquoise waters of Taylour Beach embrace your senses. Relax, sunbathe, or take a refreshing dip in the sea as you bask in the island's natural beauty.
2. Las Brisas
Step into the vibrant town of Las Brisas, where you'll be greeted by colorful buildings, lively markets, and friendly locals. Explore the charming streets, shop for unique souvenirs, and indulge in the mouthwatering local cuisine.
3. Cheshire Hall
Transport yourself back in time as you wander through the historic ruins of Cheshire Hall. This once-thriving plantation provides a glimpse into the island's colonial past and offers a serene atmosphere for reflection.
4. Junkanoo Museum
Immerse yourself in the rich cultural heritage of TURKS AND CAICOS at the Junkanoo Museum. Discover the vibrant music, art, and traditions that make this Caribbean paradise truly unique.
5. Blue Mountain
Venture into the lush forests of Blue Mountain, where nature's wonders await. Hike through the trails, breathe in the fresh air, and feast your eyes on panoramic views that will take your breath away.
6. Prince House (Purple Drive Away)
Unlock the secrets of the Prince House, a hidden gem known for its fascinating history and architectural beauty. Marvel at the intricate details and soak in the stories that have shaped this remarkable landmark.
7. Long Bay Beach and Local Museum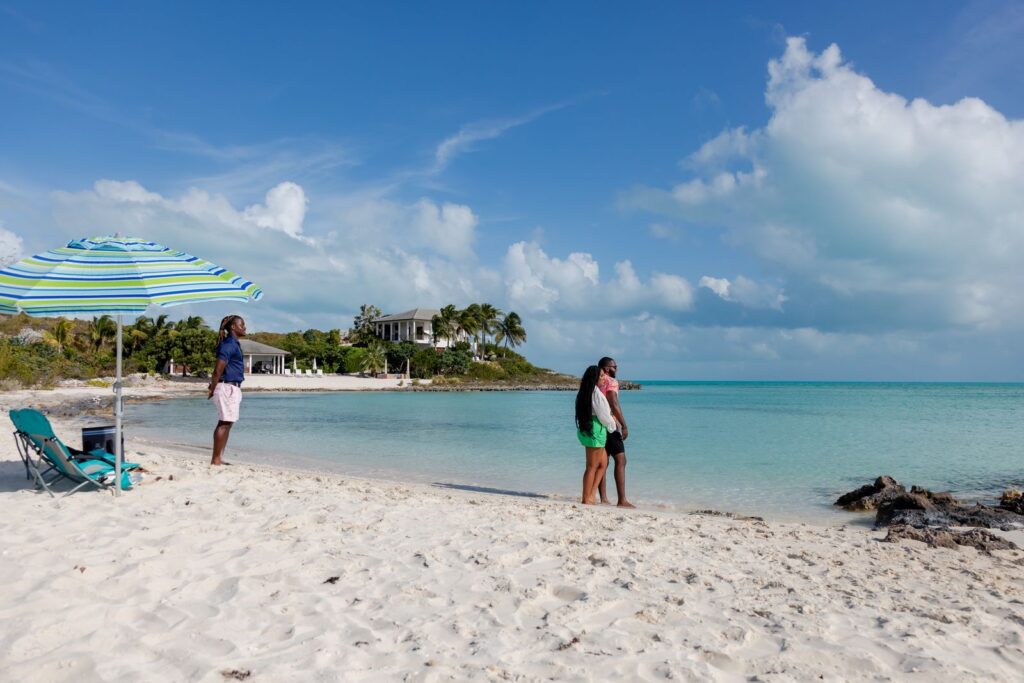 Experience the picture-perfect Long Bay Beach, where soft sands meet turquoise waters as far as the eye can see. If your tour falls on a Tuesday or Thursday, seize the opportunity to visit the Local Museum and delve deeper into the island's past.
Package Options and Highlights
We understand that each traveler has unique preferences and requirements. To cater to your needs, we offer three distinct packages: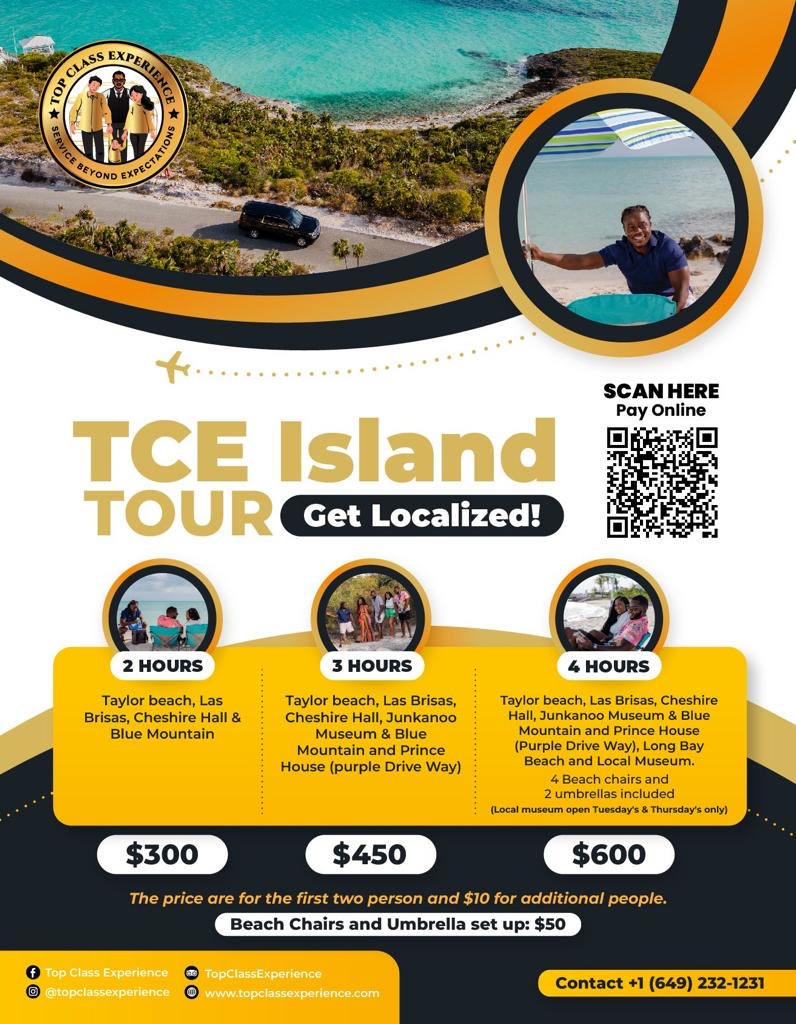 1. Basic Package ($300, 2 Hours)
Taylor Beach
Las Brisas
Cheshire Hall
Blue Mountain
2. Standard Package ($450, 3 Hours):
Taylor Beach
Las Brisas
Cheshire Hall
Junkaano Museum
Blue Mountain
Prince House (Purple Drive Away)
Premium Package ($600, 4 Hours):
Taylor Beach
Las Brisas
Cheshire Hall
Junkaano Museum
Blue Mountain
Prince House (Purple Drive Away)
Long Bay Beach and Local Museum (available on Tuesdays and Thursdays)
The Premium Package also includes 2 beach umbrellas and 4 chairs, ensuring you have a comfortable and relaxing experience during your beach visit.
Why Choose TCE Island Tour?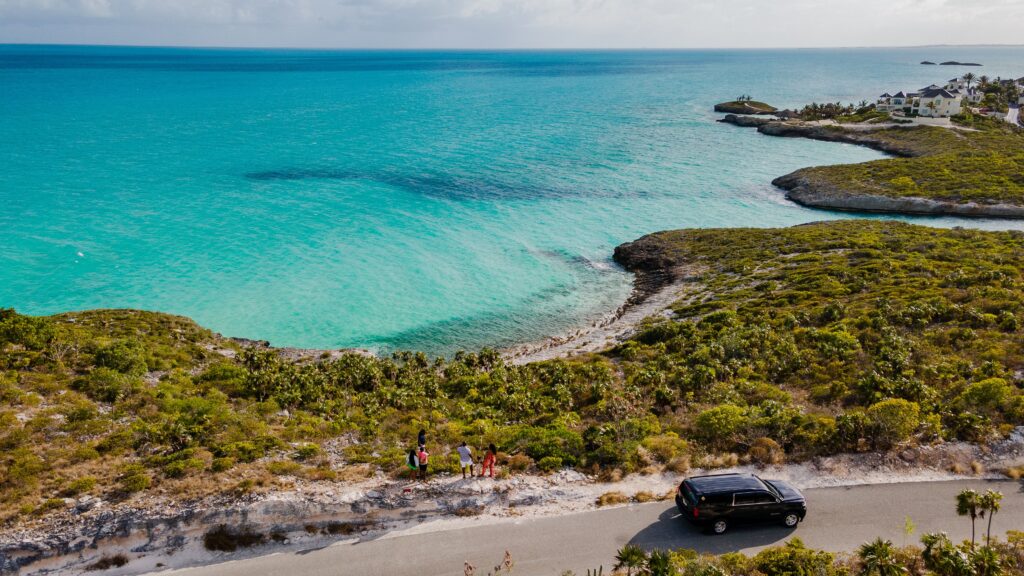 At Top Class Experience, we strive to provide you with the ultimate island adventure. Here's why you should choose the TCE Island Tour:
Expert Guidance
Our team of experienced guides is passionate about sharing their knowledge and love for TURKS AND CAICOS with you. They will be your companions, storytellers, and local experts throughout the tour, ensuring that you don't miss any hidden gems or fascinating anecdotes along the way.
Exclusive Destinations
We have handpicked a collection of destinations that capture the essence of TURKS AND CAICOS. From the pristine beaches to the historic landmarks, each stop on the tour has been carefully selected to offer you a diverse and unforgettable experience. Get ready to uncover the island's best-kept secrets.
Convenience and Comfort
We understand that your comfort is paramount during your island adventure. That's why we offer different packages to suit your preferences and budget.
Whether you opt for the Basic, Standard, or Premium Package, you'll have the opportunity to immerse yourself in the beauty of TURKS AND CAICOS at your own pace.
The Premium Package takes your comfort to the next level by providing beach umbrellas and chairs. Picture yourself lounging on the soft sands, shaded from the sun, while sipping a refreshing drink and enjoying the breathtaking views. It's the perfect way to relax and soak in the tropical paradise around you.
Tailored Experiences
Our tour packages are designed to offer a balanced mix of beach relaxation, historical exploration, and cultural immersion. Whether you're a nature enthusiast, a history buff, or simply seeking to unwind in paradise, the TCE Island Tour has something for everyone. We believe in creating personalized experiences that cater to your interests and ensure that you have a truly memorable journey.
Safety Measures and Professional Guides
At Top Class Experience, your safety is our top priority. We have implemented comprehensive safety measures to ensure a worry-free tour:
Knowledgeable Guides: Our guides are highly trained professionals who possess extensive knowledge of the islands. They are well-versed in safety protocols and will provide you with guidance throughout the tour.
Reliable Transportation: We prioritize your safety during transportation. Our vehicles are regularly inspected and maintained to ensure they meet the highest safety standards.
Small Group Sizes: To enhance your experience and maintain a safe environment, we limit our tour groups to a manageable size. This allows for personalized attention from our guides and ensures that social distancing measures can be followed.
Sanitization and Hygiene: We adhere to strict sanitization and hygiene practices, including the regular cleaning of vehicles and providing hand sanitizing stations for your convenience.
Booking and Additional Information
Are you ready to embark on the TCE Island Tour and create unforgettable memories in TURKS AND CAICOS? Booking your tour is simple! Visit our website, select your preferred package, and choose your desired date. Our user-friendly booking system makes the process quick and hassle-free.
Before your tour, we recommend checking the availability of the Local Museum if you're interested in visiting it as part of the Premium Package. Remember that the museum is open exclusively on Tuesdays and Thursdays, providing a unique opportunity to delve deeper into the island's history and culture.
Pack your sunscreen, a hat, and a sense of adventure, because TURKS AND CAICOS awaits you! Join us on the TCE Island Tour and let us guide you through a journey that will leave you with memories of a lifetime.
Get ready to experience the beauty, charm, and magic of these Caribbean islands like never before. Book your tour today and get ready to be swept away by the wonders of TURKS AND CAICOS with Top Class Experience.